1st September 2016
Autumn is officially here. Things are starting to quieten down on the smallholding, which is a good thing as the days are getting shorter and the weather is getting windier and wetter.
Unfortunately I have to go back to work, not that I don't enjoy it, just that there are always other things to be doing.
I expect my life will be regularly interrupted by birding. At least I hope it will be, for this is set to be an active hurricane season which usually brings plenty of waifs and strays from across the water.
2nd September
With the weather charts showing a fairly strong system coming into the south-west hard on the heels of constant westerly and south-westerly winds, I decided to head down to Cornwall, taking the daytime drive option. Although the drive is more tedious and it wastes valuable daylight hours, it does guarantee a half-decent night's kip before a long day sat on the side of a cliff in the face of a gale and its attendant squalls.
I picked up Dan in Bristol and we arrived in Penzance just in time to check in to the Backpackers Lodge before heading out for an evening meal in The Dolphin, the pub directly opposite the quay where the Scillonian boat sails to the magical Isles of Scilly.
3rd September 2016 - A Day for The Notebook
An early start had us all set up and staring out to sea as the sun was coming up. Seawatching is a difficult skill to acquire and takes practice. I always find myself struggling to get onto other people's birds for the first hour or so until I get my eye in again. The birds are often very distant and frequently disappear behind the waves. It is unusual that you can see enough detail using binoculars so most searching is done through a telescope. The problem with this is that the sea is a very big place with very few landmarks. When somebody else calls out a good bird it can be very difficult to locate it for yourself.
Of course if it's a really good bird then this can be frustrating. If it's a really, really good bird then it's easy to panic when you've still not found it after about 20 seconds of desperately scanning the ocean.
The technique is to slowly move the telescope across the field of view and wait until the bird appears. Move too quickly and the bird could be behind the waves as you pass by it. Move too slowly and you'll only get one chance. If it flies under your field of view you'll miss it.
Strangely enough, distant birds are easier to get onto, for they can take twenty minutes or so to travel across the viewable ocean. Also the further you look out, the more sea you are viewing, even if the birds can be very distant indeed needing an experienced eye to identify.
Worse though are the birds which pass close inshore. They often get literally overlooked. I was recently seawatching at Pendeen in Cornwall when a Red-billed Tropicbird, a monster rarity, flew along the cliffs in front of fifty people and no-one saw it. The only reason we knew about it was that somebody sat elsewhere told us about it later. Fortunately I am one of the very lucky few who have seen this species in British waters.
The sea(bird)watching was good today. Any time you are hearing calls of "Large Shear" you know it is going to be a good day, for these amazing birds are totally unphased by the weather. Whatever it throws at them they simply glide and shear effortlessly low over the waves, hardly needing to flap their wings. A strong southwesterly blow is essential to ease them closer to land as they are pelagic birds. Squalls seem to help too. I think they just choose to skirt round them which sometimes lures them closer to land than usual.
This morning was a good day for "large shear(water)s" with about fifty Cory's Shearwaters, many coming unusually close to land and affording excellent views. There were Great Shearwaters too.
But what we were really hoping for was a Fea's Petrel (to be more accurate, a Fea's-type Petrel, for there is another very similar bird which could, in theory, occur here - but that is nit-picking). With a very limited population breeding on Cape Verde, it is remarkable that the occasional bird makes it into British waters and even more rarely gets seen from land. I had seen one previously from the west coast of Ireland, where they are possible to see with a lot of persistence. I spent over twenty days seawatching before finally glimpsing one near the horizon!
But from the English mainland Fea's Petrels are even harder to catch up with. There are just a few sightings every year. The best period for them is late August.
At the beginning of this year I decided I wanted to see one from land in England. I had two options. The whackiest was to start driving north if one ever got sighted from more than one point facing the North Sea, for very irregularly a rare seabird is tracked all the way up the coast.
The other was to head down to Cornwall every time the weather looked good during the summer holidays. I reasoned that Fea's Petrels often get seen when Cory's Shearwaters are in our waters. They don't associate with them at all, but maybe move under the same conditions.
One other thing about Fea's Petrels. They have a terrible habit of passing by when everything has quietened down on the seabird front and everybody has packed up and gone home.
Come midday the rain set in. Most people left but Dan and I and one other hardy Cornish soul battled on for another couple of hours. But there is usually a late morning and early afternoon lull in seabird passage. We got absolutely drenched and the lull brought no surprises, so we eventually gave up and returned to the car to blast the heating on and try to dry out a little.
Another thing about seawatching is that it is very difficult to leave while there is anybody left looking, for it just takes one moment for some mega rare bird to fly past. At least if nobody is left you are none the wiser!
We negotiated the flooded backroads of the Cornish peninsula back to Penzance, where we headed for the beach at Marazion where a smart juvenile Buff-breasted Sandpiper, fresh in from America, was performing well.
The rain and the wind had eased off by now.
Dan and I are persistent little blighters. We had gone to Cornwall to seawatch in the hope of striking lucky, maybe with a Fea's Petrel, maybe with something even rarer. It wouldn't matter if we didn't see anything in this league, for it is not often we get to go seawatching and see so many pelagic birds passing close to land.
So late afternoon we found ourselves sat back on the cliffs. At least we weren't getting soaked. There were only half a dozen of us there now to witness a reasonable passage of birds. Large Shears were still occasionally passing by. At about 5.50 one person left, wishing us all luck, but not too much! At 6 o'clock, apparently, somebody else left from a bit further up the coast.
At 6:04pm I was watching a Cory's Shearwater doing what shearwaters do best, shearing across the waves and steadily getting closer, when I heard some unusual noises from next to me.
Something like "woh, woh, woh" from Dan. I knew it was something good. Dan has younger, sharper eyes than me and if he's getting excited about a bird then it is very likely something good.
A couple of seconds later I was in that blind panic trying to find a FEA'S PETREL.
Worryingly, the bird was close in and already more than half way past. It had snuck under our scopes.
I pointed my telescope downwards, but I was seeing so little sea that the chances of getting on the bird were slim. In under a minute it would be round the corner and out of sight.
I decided to give it five more seconds and then switch to binoculars. But a that moment I just caught a bit of wing appear from behind a wave before losing it again. I was pretty sure it was the bird though, so I moved the scope slightly right, trying to anticipate the flight of the bird and suddenly there it was, majestically rolling from side to side as it sheared over the waves.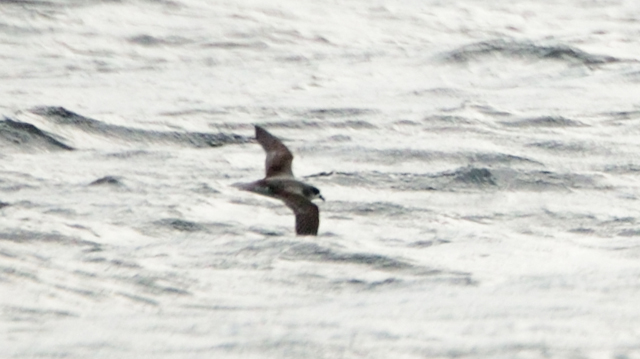 Not our bird, but the best picture I could find to approximate the type of view we got.

In reality it had only taken maybe five seconds to get the bird in view. I had got lucky. But it felt like five minutes. It was as close inshore as you could want a Fea's Petrel to be and was heading past at quite a speed. Watching seabirds is as much about overall impression and flight action as anything else, but this bird was close enough to afford the luxury of studying some of the plumage detail too in the short time we had to observe it. The underwing was very dark indeed, contrasting with a gleaming white belly. The upperwing and mantle (back) appeared a similar tone to the sea, just slightly darker, but it wasn't possible to make out too much detail with the views I got. Light conditions made it appear paler than usual. The mask and the bill are distinctive on this type of petrel. The first one I had seen in Ireland was so distant you could hardly even make out a head! But on this one the familiar head pattern was obvious. I knew too to look for a pale grey tail - at great distance this can make it look almost tailless from the upperside as it shears up into the air. But in reality it wasn't the plumage details that mattered. Gadfly petrels have a way of flying like no other and this was majestic to watch. In fact, their flight is closest to a "large shear" except they are nowhere near the size.
I had only been on the bird for maybe ten seconds when it flew under the only notable landmark in the sea off Porthgwarra, the Runnel Stone (actually a large buoy). It passed well inside this marker. Most seabirds pass just outside.
But one of the four people left was still not on the bird. With the bird being so close and passing by so quickly the Runnel Stone had come up out of the blue and by the time I called out that it was there it was past. Then all went quiet and we savoured our brief but close views of a Fea's Petrel passing the south-west tip of Cornwall.
After a total of less than a minute it was gone.
It was only at this point that we realised the fourth person had never got onto it. That just goes to show how easy it is to miss a once in a lifetime opportunity when you are seawatching. That's the appeal of it. You've got to be in the right place at the right time and looking in the right direction. If you get lucky, you see a bird which will be gone in a matter of minutes. But that's what puts the pressure on if someone else calls it out.
Sunday 4th September 2016
A good night's sleep and a switch to Pendeen this morning as the winds had switched to westerly. Pendeen is on the north coast of the peninsula and after a south-westerly blow all the birds which have been blown up towards the Bristol channel filter back down. Ideally a north-westerly wind keeps them near the shore as they pass by. A westerly is not bad either.
Seawatchers huddled up against the lighthouse wall at Pendeed
The offshore rocks at Pendeen at least give a reference point.
There were plenty of people in position as the day started pretty well with more large shears, though most were distant. Remarkably Dan had another possible Fea's Petrel, but it was ridiculously far away. I got onto the bird he was describing for just about three seconds and Fea's crossed my mind too, before Dan had called it, but just couldn't get enough to make a shout. It was only as it was about to disappear out of sight that Dan felt he could shout it, though he had already called that he had an 'interesting' bird that looked like a large shearwater but was too small.
But this would have to remain as one that got away. Thank goodness I had seen the one the previous evening!
Even more astonishingly, not much later one of the Cornish stalwarts called Fea's again, but again he couldn't get enough on it to be completely sure and nobody else got on the bird.
That's seawatching for you.
Choppy seas - ideal!
As the early afternoon lull came upon us, we decided to head off via a Hudsonian Whimbrel (a long-staying American waif) in a nearby rocky cove. Then another detour to Davidstow Airfield on Cornwall's north coast, a huge disused airfield which sometimes attracts waders. Alas, today all it was attracting was quite a collection of weirdos who appeared to be stalking sheep and ponies!
By 5:40pm we were filling up with petrol near Taunton. I would soon be dropping Dan off in Bristol and would hopefully arrive home in The Fens before 10. That was until we got back in the car and it completely refused to start.
We had to push the car away from the petrol pumps and I called Breakdown Cover. I am no mechanic and neither is Dan. As we settled in for a long and frustrating wait, Dan searched his phone for a solution (Dan and his phone are completely inseparable, he is half human half phone). He asked me to lift the bonnet and there, in front of us, was a loose battery connector. Problem solved and thankfully on our way again.
I rolled back onto the farm at 9.30pm after a very satisfying weekend.
The next rarest seabird I need on my list is Little Shearwater. This is even harder to predict, but next weekend is bringing some pretty tasty weather into the south-west, so I could be heading that way again!